Source (Google.com.pk)
Tamil TV Actress Srividya Biography
Srividya 24 July 1953 – 19 October 2006) was a leading Indian film actress of the 1970s, 1980s, 1990s and early 2000s in the Tamil film Industry, in addition to being a good singer. In the latter part of her career, she concentrated on Malayalam films. Her brilliant portrayals as a mother in many films were highly acclaimed. Srividya's personal life was full of tragedies. She fought against all odds with dedication in her work until she died of breast cancer. Srividya was born on 24 July 1953 at Chennai, Tamil Nadu, India to Tamil film comedian Krishnamurthy and Carnatic classical singer M. L. Vasanthakumari. She had a brother, Sankararaman. Her mother tongue is Tamil. Her father had to stop acting in the year when she was born because of a disease which affected his facial muscles.Her family fell into financial crisis. Her mother worked long hours to meet the family's financial needs. Srividya once reportedly said that her mother didn't even have time to breastfeed her.Srividya debuted in acting at a very early age. When her parent's marriage faced problems due to financial difficulties, Srividya's youth was blighted. She got a marriage proposal from a scientist based in the U.S., but the marriage did not materialize due to financial problems faced by her family.Srividya launched her career as a child artist in the 1966 Tamil film Thiruvarutchelvar (1966) alongside legendary actor Sivaji Ganesan. Later she entered Malayalam films with a dance scene in Kumara Sambhavam (1969), directed by P.Subramanyan and in Telugu film Tata Manavadu (1972) directed by Dasari Narayana Rao. However, her first major role was that of a college student falling in love with her professor in the 1971 Tamil film Nootrukku Nooru, directed by K. Balachander. Her first film as heroine was Delhi to Madras (1972) in which she was paired opposite Jaishankar. In mid-1970s, she became busy in the Tamil film industry. She acted in films such as Velli Vizha, Sollathaan Ninaikkiren and Apoorva Raagangal, all directed by K. Balachander. She was Rajinikanth's first heroine in Apoorva Raagangal (1975).[2] She played a heroine in the film Chattambikkavala opposite Sathyan. She gained public attention in Chenda, directed by A. Vincent. Actress Lakshmi was her very close friend.

Tamil TV Actress Srividya
Tamil TV Actress Srividya
Tamil TV Actress Srividya
Tamil TV Actress Srividya
Tamil TV Actress Srividya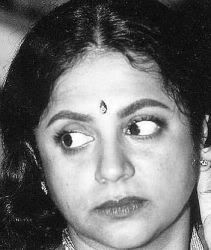 Tamil TV Actress Srividya
Tamil TV Actress Srividya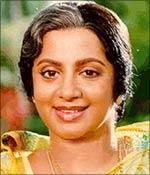 Tamil TV Actress Srividya
Tamil TV Actress Srividya
Tamil TV Actress Srividya
Tamil TV Actress Srividya
Tamil TV Actress Srividya
Tamil TV Actress Srividya